The most sustainable aerials in Australasia
The socially responsible, sustainable way
We believe we have the most sustainable products on the market, and are continuing on our journey to provide our customers the most sustainable solution possible.
We have committed to measuring our Carbon footprint and offsetting our emissions based on the ISO 14064 standard.
Source local
Our componentry is mostly sourced from suppliers within New Zealand. Our foundry, product finishers and recyclers are all just stone's throw away, ensuring minimal carbon emissions shipping parts and products all around the world or country.
Design out waste
Our precise designs and handmade approach to manufacturing means we have been able to design-out waste.
After our precise construction, reuse and recycling efforts, our whole facility produces only a 140L Council bin in a month of operation.
Extend product life
We design products that stand the test of time by using quality materials and robust assembly processes. Our aerials typically last 10 years and extending our product's life keeps them out of landfill and reduces raw materials used to replace.
We offer parts, repair and refurbishment to our customers, to make sure their aerials can last a full life.
Once an aerial reaches its end of life in that form, some parts can still been in good condition or is able to be refurbished. This is why we designed a Product stewardship scheme for our aerials to return, tear-down and steward all their components.
End of life stewardship
We have designed a New Zealand-first Product stewardship scheme for Aerials. Aiming to keep aerials components at their highest use.
Let us know if you would like to be part of our Pilot programme and start diverting your old aerials from landfill today!
Drop off at Hi-Tec Aerials facility in Woolston, or one of its scheme-participating resellers nationwide. Agents or end customers arrange freight back to Hi-Tec Aerials facility, addressed as "ATTN Product Stewardship".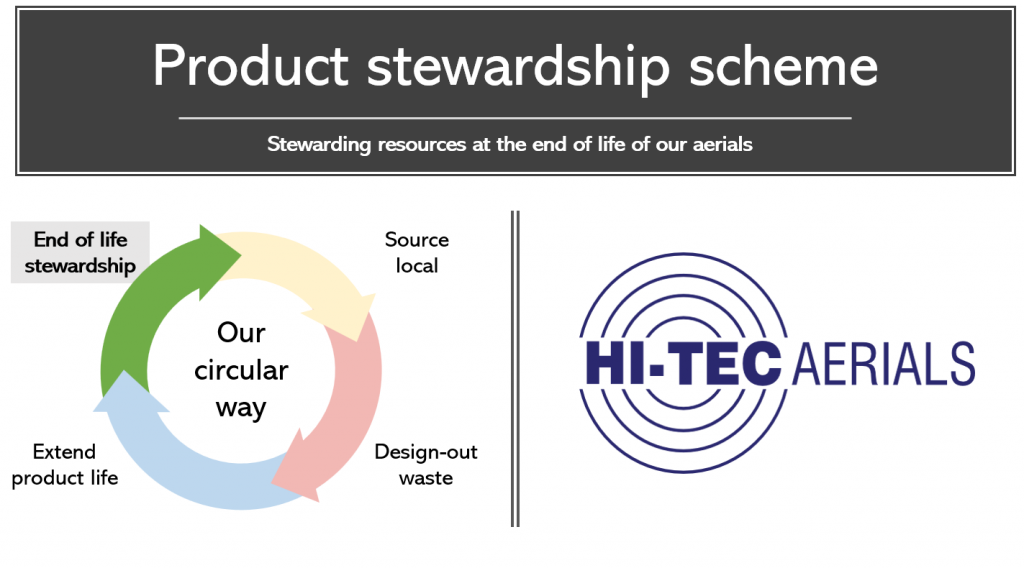 Stewardship scheme design
Scheme goal and aims
Maximize circularity of our aerials and minimise waste at the product's end of life.
Target 95% diversion of aerial componentry from landfill at the end of the aerial's ordinary useful life
Salvaged and refurbished componentry reduce need for 10%+ of virgin raw materials and their associated carbon footprints
Stage 1 scope
All Hi-Tec manufactured base station aerials.
All Hi-Tec cast aluminium aerials and clamps.
Mobile aerials, other aerials and competitors' products by consultation.
Methodology
Keep the aerials and aerial componentry at highest-use for its condition based on the waste hierarchy below.
Register your interest